Crypto is now more accessible than ever before.
There is no denial that cryptocurrencies are rapidly conquering the world. A drastic shift in perception happened in less than a decade.
By taking more and more new heights, this sector attracts a lot of new investors. The unprecedented momentum and adoption of cryptocurrencies have spurred the emergence of new services that allow people to purchase their first BTC or ETH as easily as possible.
The entry to the digital asset field has been simplified. Leading platforms open convenient gateways to engage in the world of alternative finance – providing customers with multiple entry points into the exciting realm of cryptocurrencies. We see the convergence of traditional finance and cryptocurrency exchanges. What implications may it bring?
Ongoing payment revolution
People get used to innovations fast. There was a time not so long ago when Bitcoin was labeled as a fraud by no other than JP Morgan Bank itself and the very same institution now buys these "controversial" digital assets by dozens and even lets its clients invest in BTC after just a few years! 
Since 2020, the number of Bitcoin ATMs has increased significantly worldwide. The number of active ATMs has doubled in just one year. Such a drastic increase clearly demonstrates the rising need for the world's largest crypto assets. However, other cryptocurrencies have also increased in price, and ETH even managed to beat the BTC in terms of yearly returns.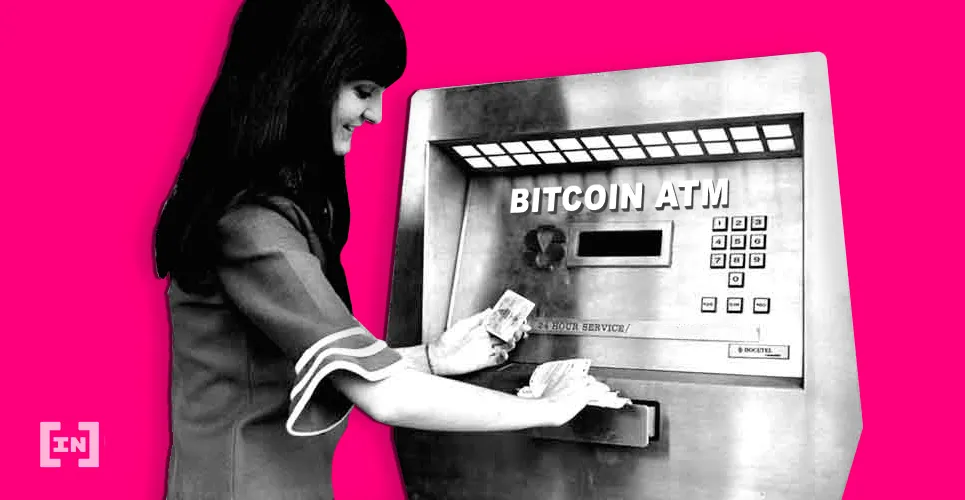 Next, the Coinbase listing that took place earlier this year was regarded as a watershed moment for the cryptocurrency industry at large. The market participants and leading economists characterized this as a major milestone for the cryptocurrency world which finally started the fusion process with traditional finance. With the U.S. exchange now getting exposure to mainstream stock-market investors, this even might become a catalyst that might further drive the adoption of digital assets.
In such circumstances, having a debit card for settlements with Bitcoin and other popular cryptocurrencies no longer seems like something extraordinary. It's just another card in the wallet and many people started to realize that they want to take advantage of a rapidly evolving segment of digital assets.
Pay with it at the store, cash-out through the ATM, or use it to make online purchases — doesn't it sound like a sci-fi dream come true? The places where such exciting options are supported, however, are still limited.
Such cards work with MasterCard and Visa payment systems. Crypto cards may contain cryptocurrencies and fiat money (dollars, euros, etc.). Many platforms and crypto exchanges engaged in this niche market aimed to provide maximum flexibility for their clients or a new shiny option to lure new users into becoming clients. With so many different choices, the freedom of crypto seems to be out of the question. 
How has the world gotten so close to being conquered by cryptocurrencies? The need for such options emerged with the first rapid growth when the market cap skyrocketed a few years ago.
Everything started from the ambitious dreams and went to the avalanche of projects that aimed to change the future and reshape everything with the help of magic blockchain technology. This dream has become short-lived as we all know as the ICO bubble buried the hopes of many for the fast revolution in many fields.
However, as the field matures and becomes more and more appealing globally, the desire to use cryptocurrencies becomes natural here. What are the stumbling stones? Regulations.
Limit your vulnerability by reducing your risks
The importance of crypto regulations has been growing stronger every year as the number of illicit parties skyrocketed within a few years. The U.S. Congress needs to develop legislation regulating crypto exchanges in the country since current laws do not place them under the direct competence of any regulator, said the U.S. Securities and Exchange head Commission (SEC) Gary Gensler.
Securities and Exchange Commission Chairman Gary Gensler, three weeks into the job, said the U.S. Congress could help protect cryptocurrency investors by drafting some laws around crypto exchange regulation, noting the current, limited jurisdiction of the SEC.
"I think that this market, which is close to $2 trillion, [this] crypto asset market is one that could benefit from greater investor protection," he said. At the moment, the exchanges on which these crypto-assets are traded are not subject to any regulatory framework – neither the SEC nor the Commodity Futures Trading Commission (CFTC), which is close to it," Barron's quoted him as saying.
The creation of a new regulator or the empowerment of existing agencies could affect companies like Coinbase Global, Barron's notes. Crypto exchanges interact with several regulators, and many rules govern their operations at the federal and state levels.
Coinbase has gone through several scrutinies, including scrutinizing the SEC ahead of a direct listing in April. However, crypto exchanges make some decisions without regulators' guidance, including decisions to start trading in a particular cryptocurrency.
A Coinbase spokesman said the company is ready to discuss regulatory measures. At the end of Donald Trump's presidency, the U.S. Treasury Department proposed to oblige financial companies to verify users' personal data during transactions with crypto wallets that allow storing cryptocurrency outside of exchanges.
Despite the latest proposals to regulate the crypto field more strictly globally as well as 6 anti-money laundering directive that will empower financial institutions and authorities to combat money laundering and terrorism financing in the EU more effectively, one should not be scared to enter the world of digital assets. Progress is an unstoppable force and becoming an early adopter will surely benefit you in the long run. The crypto-backed cards are an inevitable instrument of the future fusion of the finance and cryptocurrency field. 
If you managed to get down here, there should be no second thoughts about security in the digital asset field. A perfect choice will be not to go forward blind by shiny marketing offerings of countless crypto-related websites, but start your ride on an exchange that is compliant with the existing regulations. Limit your vulnerability by reducing your risks.
One of the most compliant players in this particular league is STEX, a fully compliant spot crypto exchange supporting European AML standards. This EU-based platform offers extensive trading pairs to provide an unmatched trading experience and provides various options to simplify crypto on and off-ramps having just a bank card.
Along with the most popular assets like BTC, ETH, USDC, STEX is currently supporting more than 400 digital assets. Platform users can buy cryptocurrencies using Visa and MasterCard and SEPA, Bancontact, and iDEAL payment systems. STEX operates under the license of the Estonian regulator and complies with KYC / AML procedures, and the clients are verified by Cryptonomica and Fractal services.
Strive for innovation continues
In just a few following years, more and more people will want not to miss out and join the rapidly emerging digital finance industry. The regulation is a double-edged sword but if it's appropriately tackled, people will benefit from this initiative, being able to interact and enjoy the exciting and emerging possibilities of the actively developing sector. We can't imagine what this industry will offer tomorrow probably, but we can surely say that complying with tightening regulations will significantly impact this point. Choose wisely if you are starting your way in crypto, or be watchful if you continue it.
Disclaimer

All the information contained on our website is published in good faith and for general information purposes only. Any action the reader takes upon the information found on our website is strictly at their own risk.